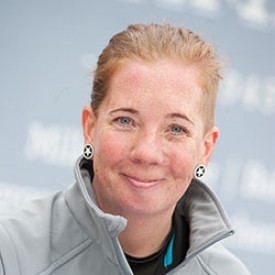 Lisa Higgins, Supervisor
Creamline's Lisa Higgins tells us what it is like working at Creamline Dairies, how her role has changed over the years and why the job is right up her street! 

Lisa, why did you decide to become a milk delivery person?
After returning from travelling across America and Europe I was searching for a job and saw an advert in the local paper for a milk delivery person. I've always enjoyed working with the general public so jumped at the opportunity to work within my local area.
What do you like about your job?
I come from a customer service background, having worked in retail from the age of seventeen, so I like the one-to-one contact I receive from my customers. No two days are ever the same, which keeps me on my toes. 
What is your typical working day as a milk delivery person?
After six years doing the milk rounds I'm now a supervisor, so my days vary depending on what role I'm taking on. I start work at midnight and will normally be finished by 7.30am, which means I'm heading to bed when most people are starting out for work. Twice a week I'll collect in the afternoon, so that I see some of Manchester in the daytime!
Are there any difficult aspects to the job?
The working hours took some time getting used to. As a young person it can get in the way of my social life, especially if I'm completing a Monday to Saturday round. I've got used to the sleeping patterns though, I can sleep anywhere, anytime.
What are the biggest changes that have happened over the years?
The launch of our online service was a significant change to our working life, making it easier for customers to add to their orders before they receive them the next morning. It has also allowed us to grow the range significantly, providing more choice and convenience for our customers.
Why do you think customers stay with Creamline?
I think our customers like the personal touch that our service offers. On top of this Creamline is a traditional business that is committed to supporting local suppliers and farmers, something our customers respect.