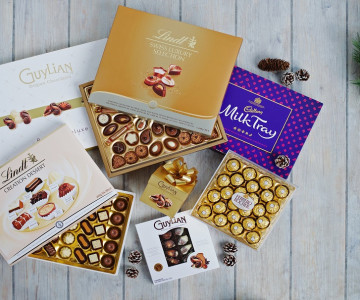 Make this Christmas that bit sweeter with Creamline!
Turkey, pigs in blankets and mince pies may be your first port of call when dreaming about Christmas feasting, but something tells us not to forget the little bites of sweetness that keep us going both before and after the main feasting event is over… chocolates!
Everybody loves chocolate and nothing quite beats family favourites like Lindt, Guylian and Cadbury's. So, this Christmas Creamline has got you covered with a range of branded chocolates, you'll think all your Christmases have come at once!
Lindt Swiss Luxury Selection - Indulge with the Lindt Swiss Luxury Selection this Christmas. Offering an exquisite selection of milk, dark and white chocolate.
Cadbury Milk Tray - Treat your loved ones to a yummy Cadbury Milk Tray - perfect for the whole family, or just for you!
Guylian Boxed Chocolates - A delicious assortment of smooth and creamy Guylian boxed chocolates, the perfect way to spread Christmas cheer!
Ferrero Rocher - It's not Christmas until you've got a box of Ferrero Rocher open. They're nutty, chocolaty and delicious!
Guylian Belgian Deluxe - A serving of deliciously smooth chocolate, this assortment of Guylian Belgian Deluxe chocolates is a definite crowd pleaser!
Lindt Creation Dessert - These Lindt Creation Dessert chocolates make the perfect after dinner Christmas treat for you and your guests!
Share This
Related Posts