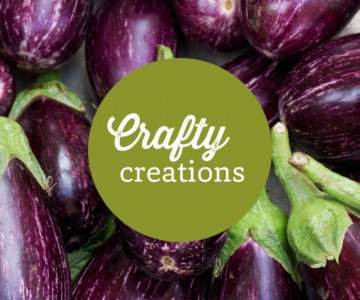 Crafty aubergine creations
Aubergine – or eggplant as Americans call it! – is a wonderfully versatile vegetable. Belonging to the nightshade family of plants, aubergines are a great source of vitamins B1 and B6 and pack a high number of antioxidants. Including aubergine in your diet, particularly when they're at their most nutritious during peak season (now!) can help boost your immune system and keep your digestion running smoothly due to their fibrous nature. Aubergine dares to be bolder than courgette, but the seasonings and spices are what makes this mild vegetable shine.
Choosing local, in-season fruit and veg is one the best ways to cut down on food miles while you pack in a ton of vitamins and minerals – plus, there's nothing more fun than seasonal experimentation in the kitchen! Add aubergines to your next Best of Local order HERE and discover crafty aubergine bruschetta, tasty Lebanese moutabel and Sardinian-style baked aubergine recipes by reading on.
Aubergine bruschetta


This yummy aubergine bruschetta is brought to you by HodgePodgeDays and includes our freshly handpicked onion, garlic, ripe cherry tomatoes, parsley and, of course, aubergine! All our veg is sourced from local markets and delivered to your door with care by our friendly milkmen.
Making nifty use of our locally sourced produce, HodgePodgeDays created a recipe that is the perfect addition to a casual lunch with friends and family. This bruschetta can help you easily hit your 5-a-day and can be enjoyed hot or cold.
Click HERE for the full aubergine bruschetta recipe on HodgePodgeDay's blog – it's not only delicious, but super simple!
Mutabel


Mutabal or Moutabel is a delectable aubergine dip originating from the Middle East. While aubergine may be a divisive vegetable, Mutabel can make any sceptic sway with its creamy texture and smoky taste. Mutabal is similar to the widely known Baba Ghanoush but has a few key differences: tahini is mixed with the smoked aubergine in Mutabel, whereas Baba Ghanoush contains no tahini and is traditionally mixed with onions, tomatoes and other vegetables. Mutabel tends to be creamier and is served with flatbread or pitta.
Ingredients for four:
1 aubergine
¼ onion
2 tbsp tahini
2 tbsp extra virgin olive oil
2 tbsp Greek yoghurt
1 tbsp lemon juice
1 tsp lemon juice
2 garlic cloves, chopped
Salt to taste
Coriander and pomegranates to garnish
Method
The aubergine is traditionally grilled directly on a open flame as it unlocks that delicious smoky flavour. Roast the aubergine over the flame of your gas stove until it is charred and the skin is flaky. If you don't have a gas stove, you can achieve a similar effect in an oven, roasting until the skin has turned black.
Scoop out the aubergine flesh/remove the charred skin.
Add the aubergine flesh to a blender along with the remaining ingredients, seasoning to taste and blend to a smooth, creamy dip.
Garnish with olive oil, coriander and pomegranates.
Serve with warmed crispy flatbread or pita. For a bigger mezze, serve along with crudites, hummus, yoghurt, olives, feta, nuts and more.
Sardinian-style aubergine


Sardinia is known for its stunning sandy beaches, crystal-clear turquoise sea, and gorgeous weather. The people of Sardinia also have an extensive repertoire of delicious and healthy food. This baked aubergine – or perdingianu, as they are called in Sardinia - recipe by SOS Cuisine is no exception.
With minimal healthy ingredients of aubergine, tomatoes, olive oil and a parsley and garlic dressing, Sardinian-style aubergines are a quintessential Mediterranean side dish we recommend trying out this summer.
Click HERE for the full recipe.
Share This
Related Posts