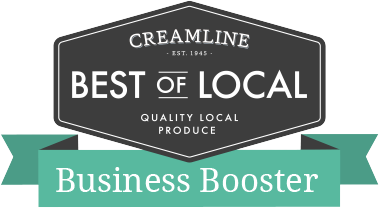 Extending a supportive hand to local companies
AT CREAMLINE, WE'VE BEEN SUPPORTING LOCAL SUPPLIERS FOR OVER 75 YEARS. WE'RE EXCITED TO NOW BE LAUNCHING OUR BEST OF LOCAL BUSINESS BOOSTER SCHEME.
We're offering three stand-out local suppliers - who've maybe been affected by the pandemic - the opportunity to sell their products through the Creamline website.
Winners will take advantage of our doorstep delivery service and benefit from promotion to our loyal customer base.
ABOUT THE BEST OF LOCAL BUSINESS BOOSTER
We're now inviting applications from companies based in Greater Manchester or Cheshire who are interested in the opportunity to have a guest spot on our bustling BEST OF LOCAL ONLINE SHOP, which - along with our ONLINE MILK AND DAILY ESSENTIALS SHOP - delivers groceries to 40,000 doorsteps across Greater Manchester and Cheshire.
Could this be a boost to your business?
THE BEST OF LOCAL BUSINESS BOOSTER COULD HELP IF:
You don't have the infrastructure to develop and support a solid e-commerce solution
Or you're not in a position to handle the logistics of delivery.
THREE DESERVING WINNERS WILL BENEFIT FROM:
Promotion through a highlighted spot on the Creamline website
A professional photoshoot
Digital marketing campaign.
Delivery of your products to customers across Manchester and Cheshire.
WHAT TYPE OF BUSINESSES ARE WE LOOKING FOR?
Our Best of Local platform has built a reputation as a beautiful online marketplace of the highest quality local fare. Partner artisan businesses include Didsbury's Little Pigs Butchers, Stockport's Thatcher's bakery and Didsbury's SLAB bakery, along with the Cheshire Cheese Company and a popular local fishmonger.
We're looking to partner with new businesses who share the Creamline ethos and can meet the operational requirements of a doorstep delivery service.
What type of products can we consider?
Our Best of Local collection includes food and drink (non-alcoholic), but we're also interested in applications from businesses whose products include household or homeware goods such as cleaning products, toiletries, candles (items that would not be one-off purchases).
Due to the nature of how we operate, there are some exclusions to the types of products we are able to stock. These include alcohol, age-restricted products that require a signature on delivery, high value items (over £25 retail), frozen items, fragile items and extremely perishable items (eg flowers).
Please consider that our deliveries are made to doorsteps early in the morning and may remain outside for a number of hours before a customer takes them inside.