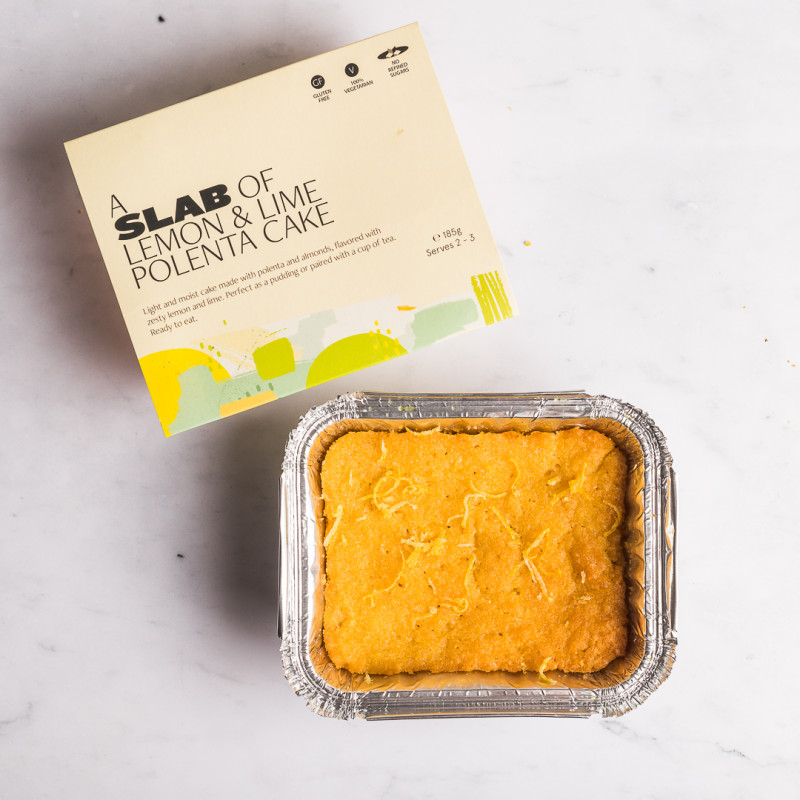 Product Details
Ingredients

Unsalted butter, (cow's MILK) demerara unrefined sugar, ground almonds (NUTS), free range EGGS, polenta, lime juice, lemon juice, baking powder (disodium diphosphate, sodium hydrogen carbonate, rice flour), vegetable oil, lemon peel, xanthan gum, lemon oil.

Allergen info

For allergens see ingredients in Capitals

Storage instructions

Store them in the fridge. They have approx 3 weeks shelf life when you get them . They are suitable for freezing, freeze on delivery and they will keep for three months.

SLAB Lemon and Lime Polenta Cake 185g
A deliciously light and moist cake from Didsbury's SLAB bakery, made with polenta and almonds, flavoured with zesty lemon and lime. Perfect as a pudding or paired with a cup of tea. Ready to eat. Serves 2-3 portions. Gluten free, vegetation, no refined sugars or palm oil. 
Price: £4.50
Share
Nutritional Information
20g

Fat

0.21g

Salt

1334.7KJ/320KCal

Energy

23g

Sugars

3.5g

Protein

32g

Carbohydrates

12g

Saturated fat

Typical values per 100g

Nutrition units