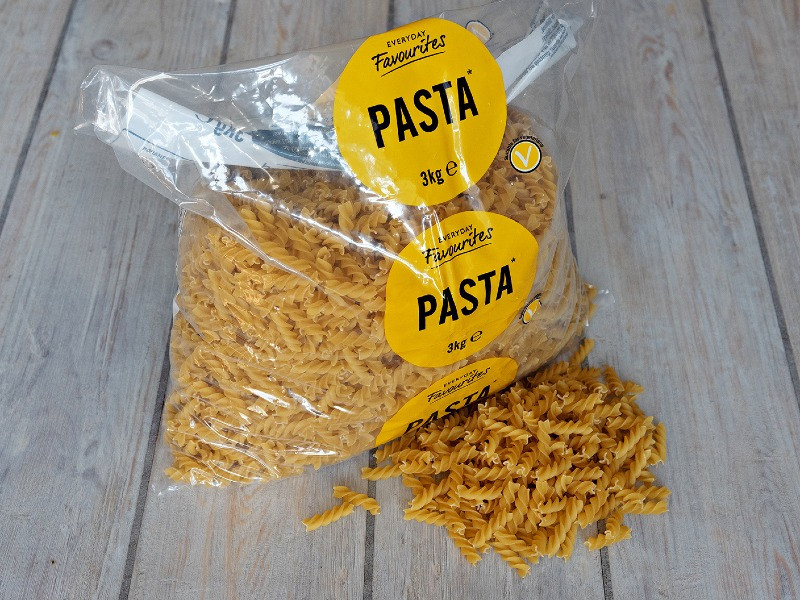 Product Details
Ingredients
100% Durum Wheat Semolina.
Allergen info

For allergens, see ingredients in bold.

May contain traces of Soya.
Storage instructions
Store in a cool, dry place.
Instructions for use
Cooking time 11 minutes. Bring a large pan of water to the boil and add salt if required. Keeping the water at a rolling boil add the amount of pasta needed. Stir with a wooden spoon to prevent the pasta sticking together and to avoid damaging the pasta. Cook for the recommended time, drain and serve.
Country of origin
Italy
Fusilli Twists Pasta (3kg bag)
This fusilli pasta is the perfect delicate shade of golden brown - the name fusilli comes from the Italian word 'fuso' which means 'to spin' referring to the way the pasta is spun as it is made.
Price: £4.50
Share
Nutritional Information
1.0g

Fat

<0.01g

Salt

3.0g

Fibre

1489kj/351kcal

Energy

3.0g

Sugars

14.0g

Protein

70.0g

Carbohydrates

0.2g

Saturated fat

per 100g

Nutrition units