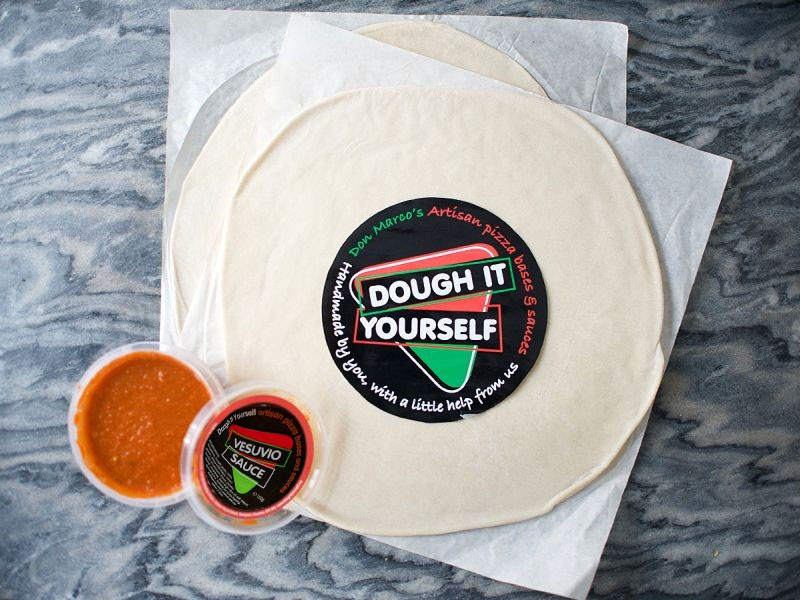 Product Details
Ingredients

Pizza base ingredients: Strong wheat flour, durum wheat semolina, blended pomace oil (olive pomace oil, rapeseed oil, anti-foaming agent: E900), fermented wheat sours, salt, yeast, preservative (calcium propionate).
Pizza Bases x 2 with Vesuvio Sauce Dough It Yourself
Providing fun for all the family, as well as a delicious dinner, these Dough It Yourself pizza kits have been created using only the finest ingredients.
Each pack comes complete with two artisan pizza bases and a spicy vesuvio sauce which is packed with flavour and an extra kick. A Pulcinella plum tomato based sauce, heated up with black pepper and chillies - a spicy alternative to our Romana Sauce.
Price: £5.49
Share
Nutritional Information
1.18g

Fat

1.0g

Salt

1.1g

Fibre

1822kj/434kcal

Energy

5.23g

Sugars

6.25g

Protein

7.13g

Carbohydrates

0.15g

Saturated fat

per 100g

Nutrition units