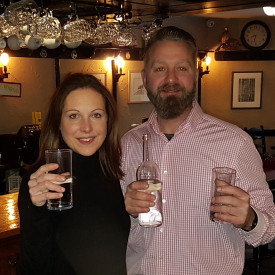 Doran Binder, Crag Spring Water
We caught up with Doran Binder the passionate producer behind Crag Spring Water. He filled us in on the company's interesting history, why he's such a supporter of using glass bottles, and what makes their water so special.
Tell us more about Crag Spring Water, it sounds like an interesting history!

A couple of years ago my family and I bought The Crag Inn, a pub in a rural village in the Peak District called Wildboarclough. Unbeknownst to us, there was a natural spring water supply right there in the grounds of the pub. We discovered that the water was almost completely free from nitrates and sodium, and so it was classed as premium grade spring water, because of its purity.
We wanted to share this hidden gem and decided to set up a small bottling plant nearby the pub, so that others could enjoy the water too.
Here at Creamline we're passionate about the use of glass bottles, which is something that resonates with Crag Spring Water. Has the decision to use glass been a recent thing?
It's something that we've done from day one. 16 million plastic water bottles are thrown away each day in the UK, so we wanted our product to be environmentally friendly. It also seemed strange to me that we recycle glass bottles, only for them to become glass bottles again!
I looked into it further, and there were no other water bottling companies in the north that reused their bottles. We decided that our aim would be to deliver Crag Spring Water, but then to also collect the empty bottles – to wash and then refill them. We can't change the past, but we can help change our future and what we do to help the environment.
Can you explain why your process is so environmentally friendly?
When a bottle is recycled, as opposed to being reused, it is melted down and formed into a new one. When reused, it is washed and used again. We estimate that it takes at least three times more energy to melt and reform a bottle as it does to wash and re-use it, so it seemed like a simple but really important step to take.
Can you tell us a bit more about what makes Crag Spring Water special?
Our spring water supply is found at the foothill of Shutlinsloe, a hill near Wildboarclough. It's formed from alternating layers of mudstones and coarse sandstones – Crag Spring Water has filtered down through these layers for centuries. Passing through these layers of sand and rock means that almost pure water is produced, and we test for this regularly.
Why did you think that Crag Spring Water make a good partnership with Creamline?
I think, as two family-run businesses, a lot of our principles are the same. For us, the customer is key in everything we do, and like Creamline, we're passionate about providing a reliable, friendly service whilst supporting local produce.
It goes without saying that Creamline's focus on glass bottles is something we strongly align ourselves with too! It's fantastic to work with a like-minded company who are keen to reduce plastic pollution.